CMMN SWDN CMMN SWDN CMMN SWDN CMMN SWDN CMMN SWDN
TUESDAY 25 AUGUST 18:00 CET COLLECTION PRESENTATION FOLLOWED BY A CONVERSATION WITH THE DESIGNERS TUESDAY 25 AUGUST 18:00 CET COLLECTION PRESENTATION FOLLOWED BY A CONVERSATION WITH THE DESIGNERS

One shared experience during the confinement of the last few months was more time to think and explore, this was also the case for husband and wife team, Saif and Emma of CMMN SWDN when a short family trip turned into an extended stay in lockdown.

Renting a cottage on the Swedish coast the family were surrounded by traditional furniture, textiles and pottery, Kurbits paintings, and the Dala horse. On one wall of the cottage was a cross-stitch reading "Borta bra men hemma bäst" which directly translates as "Away is good but home is best" or "home sweet home" as the saying goes in English. The sentiment somewhat ironic in the circumstances, but also perhaps suggesting it was time to reconnect with their homeland.

Sweden's best-loved artist Carl Larsson and his wife Karin, a textile designer became a prominent influence. Larsson is known worldwide for his paintings documenting his home and family, and side by side he and Karin produced a formidable symbiosis; she created the home that he depicted. Her interiors combining old furniture and objects with startlingly modern concepts of colour and design influencing a new approach to interior design through his paintings. Together they created the motifs that have come to characterise Sweden.

This season the rich palette and motifs used by the Larsson's are present in the teals, reds, and blues and across florals, stripes and Kurbits inspired prints. These are underpinned by the brands earthy tones including olives, mustard, ochre and rust-brown as well as highlights of bright yellow inspired by the rapeseed fields that adjoined the couples rented cottage.

Following the arts and crafts and with the lack of available materials, stripes on linen suits have been hand-painted. Kurbits prints have been produced on raw silk shirts and leather over-shirt and trousers in a nod to traditional hand painted clogs. Other elements of old Swedish homes such as sheer curtains, embroidered muslins, handwoven striped rugs and cotton whitework lace, have all influenced the fabrications of the collection.

Further motifs include cut out and embroidered hearts as seen on old outhouse doors and window shutters whilst edges and hems across trousers, blazers, a painters jacket and the staple 'Wes' crochet shirt have all been fringed for an additional hand-crafted feel.

Continuing their exploration into sustainability, alongside Danish brand Casc8 the brand have created a series of striped bags inspired by the discarded single-use plastic bags they have been made from. Casc8, together with an NGO in India, work with local artisans by collecting plastic waste and through their highly skilled hand-weaving convert it into useful material enabling them to generate their own income.

A return to their roots has been enlightening for the couple and an opportunity to now present this exploration through CMMN SWDN is an enriching experience, that despite the unusual circumstances is one which they hope to continue in the future.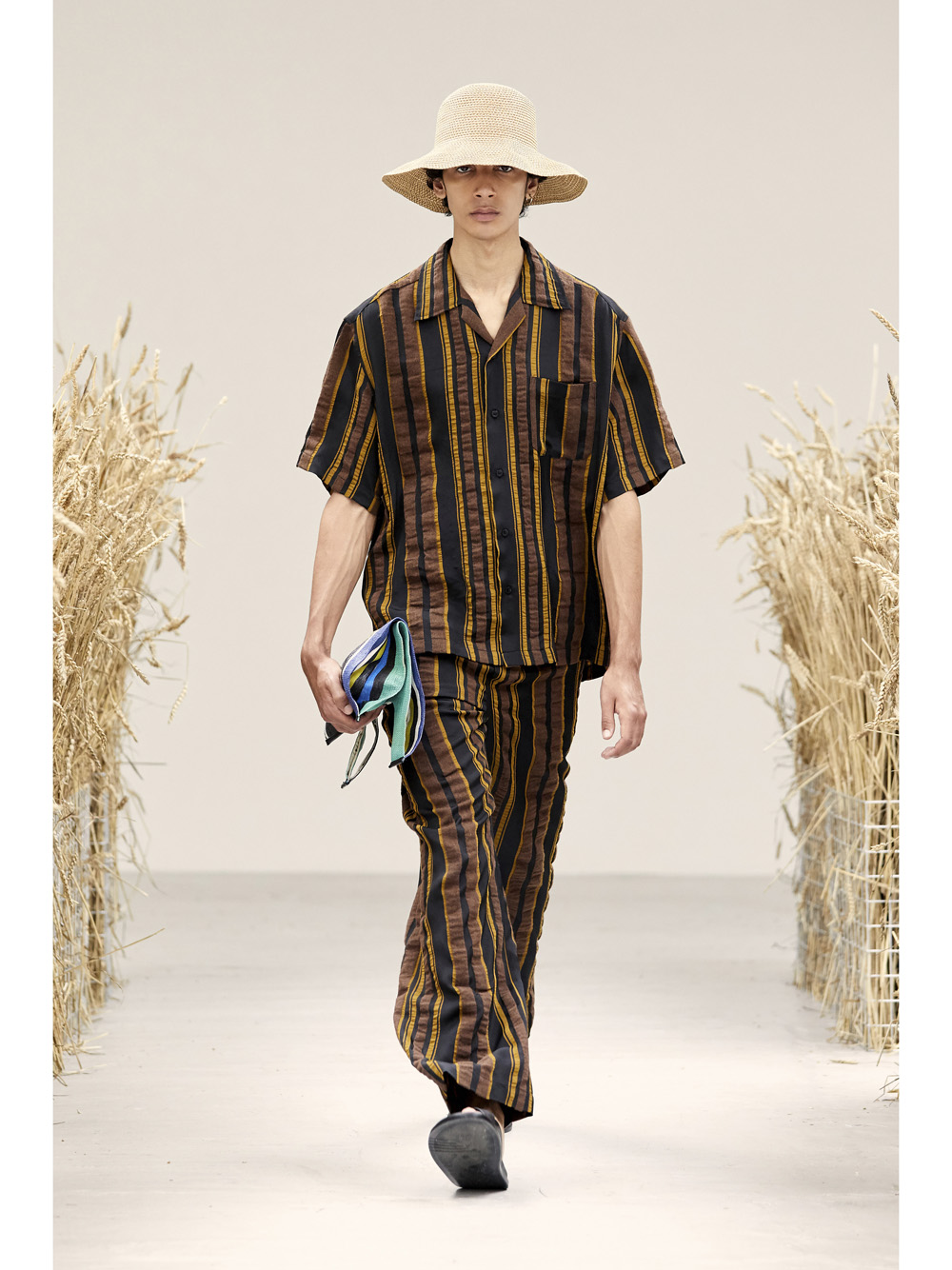 CMMN SWDN is designed by husband and wife duo Saif Bakir and Emma Bakir Hedlund. With an aesthetic inspired by their diverse backgrounds and design disciplines there is a constant play on contrasting elements and the use of unexpected pairings: masculine and feminine, textured and fluid, structured and deconstructed with each piece offering a balance of opposing elements that caters for the self-confident individual.